---
PDBase Pro 3
---
Introducing Pocket PDBase Pro 3.0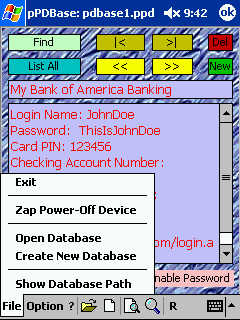 Managing all your data has never been easier or more convenient.
Tired of having to use an insecure Pocket Excel Document to keep track of:
Website, Email, Logon, Security or Computer passwords
Software Activation Codes, Licenses, Keys
ATM codes
Credit card numbers
Customer support numbers
On-line bill paying, banking, etc. passwords and website addresses
Instant messenger names, passwords
Internet settings for your dial-up or wireless accounts
On-line shopping account passwords and website addresses
Client tracking
Customer lists
etc.............
Pocket PDBase Pro comes complete with a Full version of PDBase Pro for your desktop so that you can keep your database up-to-date between your device and desktop. PDBase Pro makes it easy to import all the records from your device into the Desktop version and export your records to your device with a click of a button!
Pocket PDBase Pro can store any information.
Key features of Pocket PDBase Pro:
Security: the only time your Encrypted data is decrypted is when you are looking at it. The rest of the database remains encrypted. Version 3.0 adds the ability to create non-encrypted databases for non-sensitive data. This allows for over 90% faster searches by removing the encryption overhead.
Password protection: protect pckPDBase Pro so in the event you lose your device, no one will be able to view your databases without knowing your encrypted password.
Skins: the Skins menu provides 10 custom and colorful Skins to choose from or none at all. You can create your own!
Searching: fast searching of any text contained within any part of any record
List All: Ability to list all of your records alphabetically so you can quickly display the record with a single click
Hardware Control: FREE Bonus! Includes Zap Power-Off (ARM, XScale) so that you can shut off your device safely from within pckPDBase Pro
Convenience: you have the option to bookmark your last displayed record on exit, so it will be displayed immediately when you restart pckPDBase Pro
Options: The program can be installed and run from a storage card
Features: pckPDBase Pro has a Full-Featured Edit menu: Cut, Copy, Paste, Delete, Undo, Select All, etc.
New to Pro Version:

Multiple Database Support: Ability to Create / Open new databases
Ability to change Font Size
Ability to change / customize the background and text colors. Comes with a preview panel to see how your color choices work with your current skin
Results Page: This page stores the results of your last search in a nice, organized, sorted list. One click of a record takes you right to it! This saves a lot of time and prevents you from having to run the same search over again.
Quick-Tap toolbar buttons for quick and easy access to common commands
Quick Information about your database, such as the last time it was modified
When you are connected via wireless or cradle, highlight a URL / website address in your database and choose "Edit->Launch URL" and Pocket Internet Explorer will start browsing to your website.

New Features in Version 3.0:

New databases can be created as Encrypted for better protection or Non-Encrypted
Search feature enhancements: Search entire record, only the top field of the record or only the lower field of the record
New Navigation Pad on Results page, so you can quickly locate an item by Letter
Faster Encrypted Database searching speeds
Increased each record size by 2 times
User Interface Enhancements
Key features of Desktop PDBase:
Contains the features of pckPDBase plus:
Option of having PDBase window say on Top of all other windows, making it easy to cut and paste any data such as a logon name or password into an application or website.
When you are online, you have the ability to double-click a record that contains a website address and have Internet Explorer (or your default web browser) immediately open and display the website. Making it easy to cut, copy and paste any information.
Double-clicking any text in a record automatically copies it to the clipboard, then all you have to do is paste it where you need it, saving you a lot of time and keystrokes.
Ability to import and export your databases from pckPDBase or to pckPDBase.
Ability to Backup your databases to a disk and Restore at will.
Ability to print your database records.
Multiple Database Support: Ability to Create / Open new databases
Added many short-cut keys and keystroke-saving mouse-clicks, see the Readme.htm section: Special Features of the Desktop Version.
NEW: Fixes and new enhancements to the export feature, now built-in File Transfer automatically Exports your Desktop Databases to your Pocket PC.
NEW: Create Encrypted or Non-Encrypted databases
NEW: Can now rename database when exporting to your Pocket PC
NEW: Can change the WebLink background color in field 2
NEW: Enhanced Backup and Restore, now you can backup / restore from any drive
NEW: User Interface Enhancements, enhanced help dialogs
NEW: Many fixes and enhancements throughout the program
Many more features, please see the included Readme.htm file for details.
Desktop PDBase is compatible with Windows 95, 98, 2000, XP
Trial Version is at VERSION 2.0.527 and does NOT include the Desktop PDBase Software
NO COMPLICATED SETUP PROCEDURES! pckPDBase comes packaged as a self-installer linked to ActiveSync for quick worry-free installing and uninstalling.

XScale Compatible (ex. IPAQ 3900 series)

>> Click Here for Pocket PDBase Standard Version


Feature Highlights

PDBase Pro

PDBase 1.5

Multiple Database Support
Single Database Design
Ability to Change Font Size
Single Font Size
Customize Background / Text colors
Single Color
Results Page - Quick way to view search results
Not available
Built-in File Transfer
Manual File Transfer
Quick Toolbar Buttons for New Features
No Toolbar Buttons
Automatically Launch Pocket Internet Explorer by highlighting a URL in your database and choosing "Launch URL"
No such feature
Instructions: Click a skin to download and a new window will appear. Right-Click the picture in the new window and choose "Save Picture As.." or something similar depending on what browser you are using. Once downloaded, rename the skin to "custom.bmp" and copy the file to your pocket pc into the folder where you installed Pocket PDBase Pro. The default folder is "My Device\Program Files\PckPDbase Pro". Start Pocket PDBase Pro and choose "Custom" from the Skins menu.
Download the Trial Version of Pocket PDBase Pro
$21.99 at: