Tips and Tricks

Have a tip or trick to share with others? Feel free to send it here and it may be posted on this site. Please state if you wish to remain anonymous.
---
Tired of having to Click the Start Button, then the Programs Folder and then look through all of your installed applications just to find your Acupuncture / Herb / Diagnosis software? Follow these steps and create an Acupuncture folder on the Start menu and have all of your applications handy.
This is a picture of the finished result: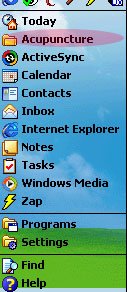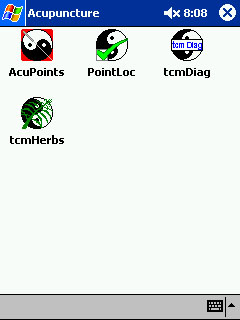 Here's how to do it:

Connect your Pocket PC 2002 to your desktop computer via ActiveSync
Once connected, double-click the Green ActiveSync Circle on your taskbar next to the clock
When Microsoft ActiveSync comes up, click the "Explore" button
When the "mobile device" window comes up, double-click the "My Pocket PC" folder
Next, double-click the "Windows" folder
Find and double-click the "Start Menu" folder
You should see, among other things, the "Programs" and "Settings" folders, now you know you are in the right area. From here, use the Right Mouse button and Right-Click in a blank area within the window. When a little dialog appears, choose "New Folder" at the bottom
When "New Folder" comes up, type "Acupuncture" or whatever name you want to give to your new folder
From here, double-click the "Programs" folder
Hold the Ctrl / Control key on your keyboard and use the Left Mouse button to click all of your Jeffers Software program that you want grouped together in your new folder. For example, tcmHerbs, tcmDiag, PointLoc, Acupoints. Once you have only these files highlighted, let go of the Ctrl key and then go to the "Edit" menu at the top of that window and Choose "Copy"
Now click the "Back" or Up button on that window to return you to "\Windows\Start Menu". Once there, double-click your new folder, i.e. "Acupuncture"
Again, go to the "Edit" menu at the top of the windows and Choose "Paste". This will make of copy of the shortcuts for you in your new folder
At this point you can click the Start button on your Pocket PC 2002 and you should see your newly created folder, like above. Now just Tap that folder and you no longer will have to search though a list of all your programs to find the one's you need.
NOTE: If you un-install a program in your newly created folder, you will have to manually repeat some of these steps and delete that shortcut because it will no longer be working and the un-installer will not know to remove this shortcut.
---
Printing: If you have an IPAQ, HP offers free printing software for your Pocket PC. Now you can print your Herbal Formulas from tcmHerbs or your Progress reports from Pocket PointLoc along with other document formats:
- e-mail
- .RTF
- tasks
- contacts
- notes (.pwi)
- Pocket Word (.psw)
- appointments
- images (.bmp, .jpg, .png)
- text (.txt)

The printing software is compatible with Pocket PC 2002 and Pocket PC 2003 (Windows Mobile 2003)
Check out the software here: HP / IPAQ Printing Software
---
Want to prevent having to reinstall all of your software? Want to prevent losing your valuable data?

Then simply follow these instructions and rest assured you can restore your Pocket PC back to normal in a hurry:
Easily Backup Your Entire Pocket PC by Using Microsoft ActiveSync, Here's How:
Connect your Pocket PC to your Desktop Computer to establish and ActiveSync Connection


Double-click the Microsoft ActiveSync Icon located in your Windows System Tray




Microsoft ActiveSync will Open. From here, click the "Tools" menu and then click "Backup / Restore..."




The "Backup/Restore" dialog box will appear. Make sure to click "Full backup" and then click "Back Up Now"




Your Entire Pocket PC will now be backed up, Including your settings, programs, data, contacts, etc.




Bingo! You have successfully made a backup of your Pocket PC!




Now if your battery ever dies, don't worry, all you need to do is simply repeat Steps 1-3 and then on Step 4, choose the "Restore" tab, then click the "Restore Now" button, Bingo! Pocket PC Back to Normal: