Point Location Testing
---
Introducing Pocket Point Location Testing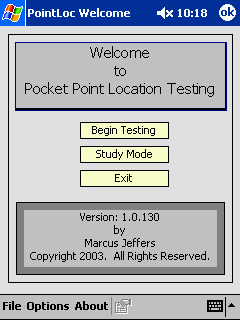 Pocket PointLoc is a fun, small and handy tool for Students of Traditional Chinese Medicine. Testing is based on standard Acupuncture point locations. You will be presented with a point location and you are required to click the correct answer. You can use Hints or get the Answer immediately. A score will be calculated and acupuncture points that are missed will be logged to a detailed pocket Word report for you to view on your Pocket pc or print on your desktop PC.
---
Features:
Point Loc Includes the standard Acupuncture Point locations of all 361 main meridian acupuncture points based from the book Chinese Acupuncture and Moxibustion. This book is on the book list for the California State Acupuncture Licensing Exam and the National Commission for the Certification of Acupuncturists and Oriental Medicine Exams (NCCAOM). All the acupuncture point locations will be presented in a random order without repeating the points. So rest assured you will not be tested in the same order every time - that would be too easy!


Easily choose which Meridians you want to be tested on: This is a great feature for beginning or advanced students alike. Pre-configure PointLoc to test you on specific meridians at a time or all of them at once, just click each meridian you want to be tested on and begin the test. Your testing meridian preferences will be saved for the next time PointLoc is run.


Outputs your results as a pocket Word document: PointLoc will generate a detailed report of your exam at the end complete with your statistics. You can then transfer this document to your Desktop PC for printing. That way you can have a study list of points you need to work on.


Intuitive and Easy to Use Interface: One click on the Meridian abbreviation and up comes a list of points for you to choose from


Built-in Study Mode: Enter the study mode to brush up on point locations before you take your test. Easily compare and contrast similar point locations.


PointLoc will give you Hints: If you are having a hard time deciding what point it might be and you need a little help, just click the Hint key. If you always want the Hints to be displayed, Choose it from the Options menu and it's set!


Get the Right Answer: If you can't figure out what point it is, click the Answer key and you'll find out, but beware, you'll be docked a point on your score!


ADDED BONUS! As a Standard in all Jeffers Software, PointLoc incorporates Zap Power-Off, so you can either exit PointLoc or Turn Off your device, all from the Menu. Saving wear-and-tear on your Power Button
Will this Software work with your Pocket PC? / Is your Device Compatible?
Purchasing and Special Pricing Information