Integrated Testing for Chinese Medicine
---
Introducing iTCM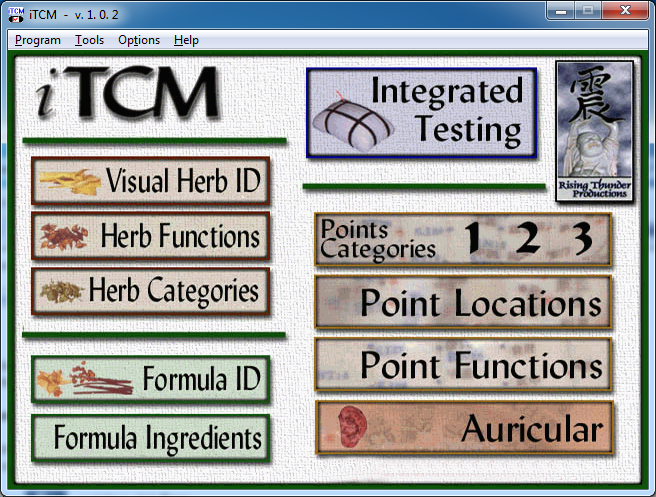 (Click on any program button above to explore the features of iTCM!)
iTCM 1.0 - Summary of Features
After 10 years of design and development, iTCM is finally being made available for public release. Originally developed by students of Oriental Medicine / Traditional Chinese Medicine to review for comprehensive year-end finals, the National (NCCAOM / Nationals) certification examination in TCM, and the California State Acupuncture Board (CA state boards), iTCM is a suite of testing applications covering all aspects of traditional Chinese medicine from body and auricular acupuncture points to individual herbs as well as formulas. Whether you are a student looking for a study aid to prepare for a test or an experienced practitioner wishing to review and hone your skills, iTCM provides the tools you need to study, learn and reinforce your knowledge in a completely customizable learning environment that will grow with you as your needs develop.
iTCM's expansive database includes:
361 Regular Meridian and Extraordinary Channel points
84 Auricular acupuncture points
303 Chinese herbs
212 Herbs with full-color pictures for visual identification
248 Traditional Formulas
iTCM allows you to:
Master point locations and functions with hints and multiple-choice options if you need them. Your testing scenario is completely up to you – choose to be tested by specific meridians / channels or by individual points you can easily customize at any time.
Study point categories. Test yourself on Five-Element correspondences as well as all the most common point groups such as: Mu, Shu, Xi, Luo, Source, He-Sea, Influential, 4 Command, 3 Jiao, Group Luo, Muscle Meridian Meeting Points, as well as the 8 Extra Master Points.
Explore the ear and its many aricular point locations and functions.
Review your herbs by function or visual identification. Multiple-choice and hints are avaliable if needed and you can customize your testing environment by herb category or by specifying any combination of individual herbs you want to work on.
Test your knowledge of traditional herbal formulas by identifying a formula by its function or recall individual herbal ingredients with visual display of component herbs.
Quiz yourself on any or all of the features listed above in an integrated testing module that lets you simulate the "big test" with as many herbs, points, and formulas you want and a handy report afterwards that tells you what you missed and how you missed it so you can review your results and quickly determine your weaknesses and identify the differences between your wrong answers and the correct ones.
Enter notes for points or herbs during the testing process so that you can review them later to help organize your testing efforts or focus on problem areas.
For Operating System and Other Requirements see the link below "Will this Software work with your PC?"
Will this Software work with your PC?
Operating System

Software is compatible with:

Microsoft Windows 9x
Microsoft Windows 2000
Microsoft Windows XP
Microsoft Windows Vista
Microsoft Windows 7
Microsoft Windows 10

System CPU

CPU Requirements:

Minimum: 133 MHz Pentium or AMD microprocessor
Optimal: 1.8 GHz+ Pentium or AMD microprocessor



System Memory

Memory Requirements:

Minimum: 128 MB
Optimal: 512+ MB



System Video

Video Resolution:

Minimum: 1024x768
Optimal: 1280x1024


Color Quality:

Minimum: 16-bit (Medium)
Optimal: 32-bit (Highest)



System Storage Space

Free Hard Drive Space:

Minimum: 30 MB
Optimal: 100 MB



System, General

General:

Keyboard
Mouse
.pdf Document Reader (Adobe Acrobat Reader / Foxit Reader, etc.)




Purchasing and Special Pricing Information