Integrated Testing for Chinese Medicine
---
Review the most important point categories to improve your test scores or enhance your treatment protocols.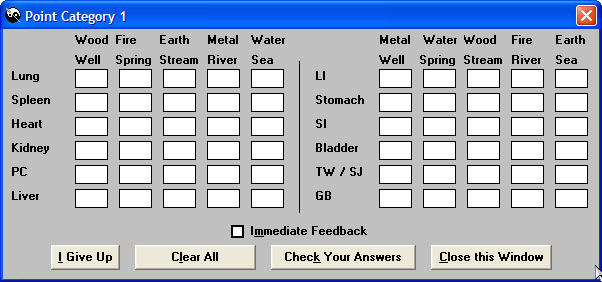 The first Points Categories section tests Five Element point correspondences.
The second section covers Mu, Shu, Xi, Luo, and Source points.
The final section tests Lower He-Sea, Influential, 4 Command, 3 Jiao, 8 Extra Master, Group Luo, and Muscle Meridian Meeting Points
Score your results after you finish a section or choose "Immediate Feedback" if you want to know how you're doing right away. iTCM will color code your answers so you know what you got right and what you need to work on.
Will this Software work with your PC?
Operating System

Software is compatible with:

Microsoft Windows 9x
Microsoft Windows 2000
Microsoft Windows XP
Microsoft Windows Vista
Microsoft Windows 7
Microsoft Windows 10

System CPU

CPU Requirements:

Minimum: 133 MHz Pentium or AMD microprocessor
Optimal: 1.8 GHz+ Pentium or AMD microprocessor



System Memory

Memory Requirements:

Minimum: 128 MB
Optimal: 512+ MB



System Video

Video Resolution:

Minimum: 1024x768
Optimal: 1280x1024


Color Quality:

Minimum: 16-bit (Medium)
Optimal: 32-bit (Highest)



System Storage Space

Free Hard Drive Space:

Minimum: 30 MB
Optimal: 100 MB



System, General

General:

Keyboard
Mouse
.pdf Document Reader (Adobe Acrobat Reader / Foxit Reader, etc.)