Integrated Testing for Chinese Medicine
---
Identify the appropriate category for the given herb.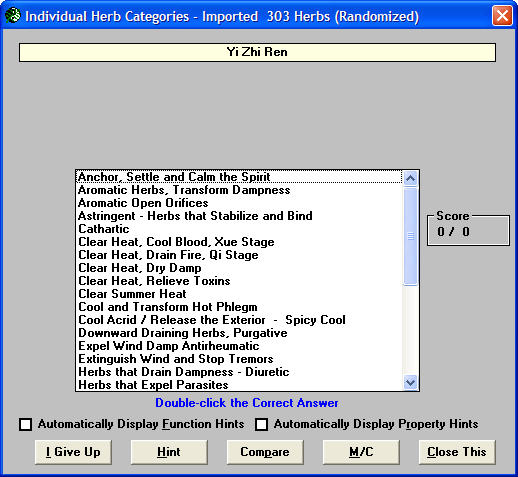 Set up your testing environment by categories or by a custom list of individual herbs. Review exactly what you need to study.
Select your answer from a comprehensive list of categories or use the multiple option to help you narrow your choices.
View herbal function or property hints if you need help.
Choose the "Compare" option to access comprehensive details on any herb you'd like to see before you answer.
View a full report of anything you missed.
Will this Software work with your PC?
Operating System

Software is compatible with:

Microsoft Windows 9x
Microsoft Windows 2000
Microsoft Windows XP
Microsoft Windows Vista
Microsoft Windows 7
Microsoft Windows 10

System CPU

CPU Requirements:

Minimum: 133 MHz Pentium or AMD microprocessor
Optimal: 1.8 GHz+ Pentium or AMD microprocessor



System Memory

Memory Requirements:

Minimum: 128 MB
Optimal: 512+ MB



System Video

Video Resolution:

Minimum: 1024x768
Optimal: 1280x1024


Color Quality:

Minimum: 16-bit (Medium)
Optimal: 32-bit (Highest)



System Storage Space

Free Hard Drive Space:

Minimum: 30 MB
Optimal: 100 MB



System, General

General:

Keyboard
Mouse
.pdf Document Reader (Adobe Acrobat Reader / Foxit Reader, etc.)