Integrated Testing for Chinese Medicine
---
Learn to recognize a formula from a list of its ingredients, associated symptoms, and clinical diagnosis.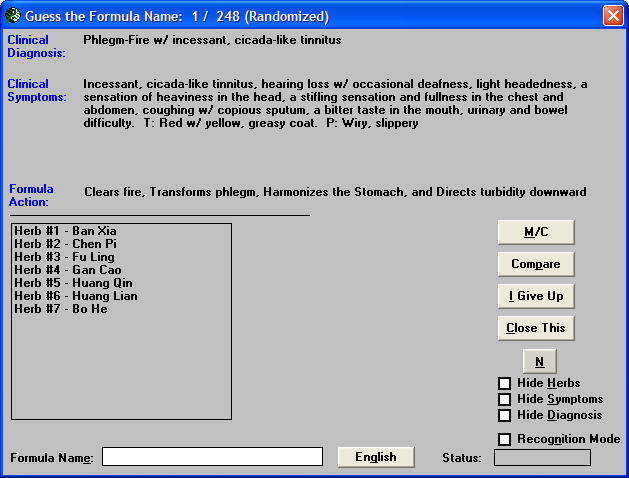 Test yourself on specific formulas or entire categories of formulas. iTCM supports nearly 250 of the most common traditional herbal formulas.
Enter your answer in pinyin or English or select from multiple-choice options.
For an added challenge, you can choose to selectively "hide" herb, symptoms, and diagnosis information to specifically target your weak areas.
Choose the "Compare" option to access comprehensive details on any herbal formula you want to see.
Use the Notes feature to record problems and ideas while you test. Review it all later.
After your testing session, view a report on what you missed and analyze your incorrect answers to help you identify why you missed them.
Will this Software work with your PC?
Operating System

Software is compatible with:

Microsoft Windows 9x
Microsoft Windows 2000
Microsoft Windows XP
Microsoft Windows Vista
Microsoft Windows 7
Microsoft Windows 10

System CPU

CPU Requirements:

Minimum: 133 MHz Pentium or AMD microprocessor
Optimal: 1.8 GHz+ Pentium or AMD microprocessor



System Memory

Memory Requirements:

Minimum: 128 MB
Optimal: 512+ MB



System Video

Video Resolution:

Minimum: 1024x768
Optimal: 1280x1024


Color Quality:

Minimum: 16-bit (Medium)
Optimal: 32-bit (Highest)



System Storage Space

Free Hard Drive Space:

Minimum: 30 MB
Optimal: 100 MB



System, General

General:

Keyboard
Mouse
.pdf Document Reader (Adobe Acrobat Reader / Foxit Reader, etc.)