Integrated Testing for Chinese Medicine
---
Review the location, actions, and indications of 84 Auricular points.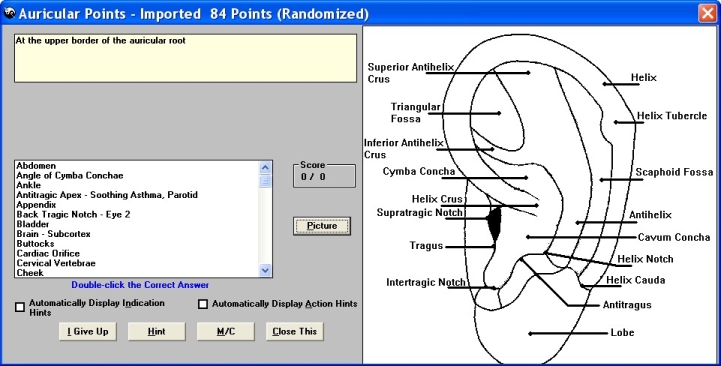 Choose the ear point that corresponds to the given location.
Need a hint? iTCM will provide Indication and Action information for the point. Or configure this extra information to appear for each point in your testing session.
If you prefer the multiple choice format, iTCM will give you options to choose from. If the multiple choices are too easy, set the difficulty level to "hard" for a greater challenge.
Track your progress and view a summary of what you missed.
Will this Software work with your PC?
Operating System

Software is compatible with:

Microsoft Windows 9x
Microsoft Windows 2000
Microsoft Windows XP
Microsoft Windows Vista
Microsoft Windows 7
Microsoft Windows 10

System CPU

CPU Requirements:

Minimum: 133 MHz Pentium or AMD microprocessor
Optimal: 1.8 GHz+ Pentium or AMD microprocessor



System Memory

Memory Requirements:

Minimum: 128 MB
Optimal: 512+ MB



System Video

Video Resolution:

Minimum: 1024x768
Optimal: 1280x1024


Color Quality:

Minimum: 16-bit (Medium)
Optimal: 32-bit (Highest)



System Storage Space

Free Hard Drive Space:

Minimum: 30 MB
Optimal: 100 MB



System, General

General:

Keyboard
Mouse
.pdf Document Reader (Adobe Acrobat Reader / Foxit Reader, etc.)