Introducing AcuPoints 5 for Windows and Android Devices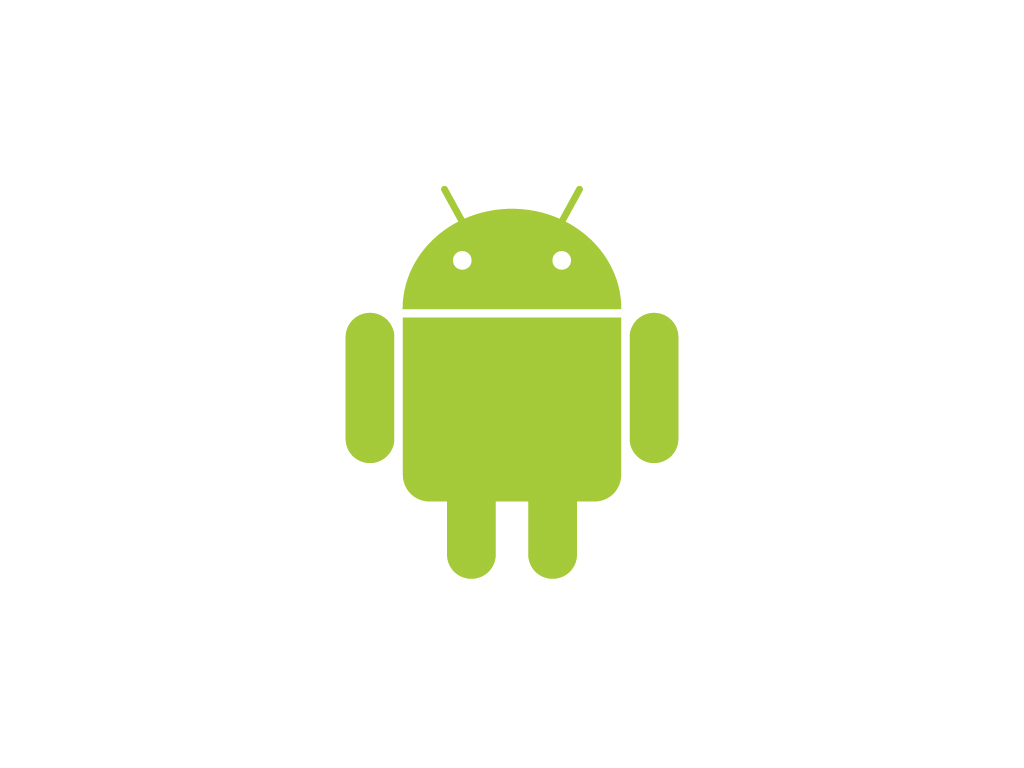 ---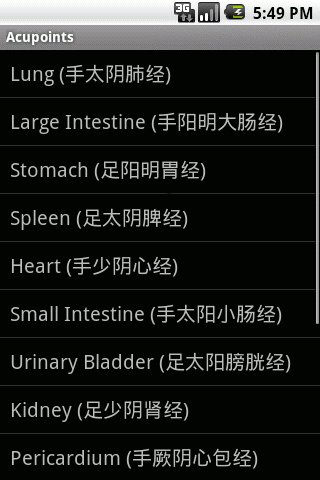 Please take a sneak preview of Acupoints for Android above
(..may take a second to load..)
AcuPoints 5 and AcuPoints for Android 1.0
- Brief Summary of Features
AcuPoints is an all-in-one program which addresses the needs of Acupuncture Professionals as well as Students of Traditional Chinese Medicine.
The intended purpose of AcuPoints is to create a simple, elegant and powerful solution that allows you to quickly access to your Acupuncture point data whether at the office, home, or on the run.
This software includes two great packages:
The first package is a Windows desktop version of AcuPoints for Importing, Entering / Modifying information related to both Acupuncture Point clinic notes and TCM Diagnosis. This package allows you to Import your databases from existing files and Export your Desktop databases to AcuPoints for Android. The desktop version enables you to quickly enter, change, add, delete and modify information using your regular desktop or laptop PC. If you are computer savvy and already have external data ready to import into AcuPoints, the Desktop version allows importing from a Text file or Excel spreadsheet (template included). This new edition also adds Multi-Keyword Search capabilities that provides results from both your "My Clinic Notes" and Diagnosis database sections. A new Acupuncture Treatment Protocol feature allows you to build, save, and modify custom acupuncture point protocols.
The second package (optional to install) is for Android. It includes many features that are not found in any other Android Acupuncture software program to date. This package can be installed on your Android 2.0 or higher device and allows you to not only access your AcuPoints "My Clinic Notes" database but also includes meridian and body measurement reference pictures along with Multi-search capabilities to quickly find what you are looking for. When using Desktop AcuPoints you are 3 mouse clicks away from seamlessly exporting your database to your Android device for use with AcuPoints for Android.
As you can see, these two packages are comprehensive and yet completely expandable. Imagine what you can do.

Please read on to find out more about these powerful programs.




AcuPoints for the PC Feature Highlights:

AcuPoints comes with a Desktop version. This program runs on Windows 9x, NT, 2000, XP, Vista, Windows 7 (32 and 64-bit) allowing you to enter or import your existing data from a Text file or an Excel spreadsheet right into AcuPoints, making it almost instantly available to your Android Device. Here are just some of the features of the Desktop version:
Desktop AcuPoints features Multi-Search, the very powerful multi-keyword search utility.
Ability to seamlessly Export to your Android Device if you choose to use the optional AcuPoints Android package.


Built-in file transfer! You are 3-clicks away from having Desktop AcuPoints transfer (export) your notes database to your device.

Large database support and large record size increase for your "My Clinic Notes" section
Import from a .txt file or Excel spreadsheet (no need to retype data you may already have)
If you don't have any data to import, Desktop AcuPoints makes it very quick and easy to type (or Copy / Paste) your Notes right into the program, then you can Export the data to your Android device!
Acupuncture and Diagnosis and Treatment sections both offer full backup and restore functionality to keep your data safe
AcuTx: Create your own custom treatment protocols and save them for later reference. Choose which points you want to add and then decide if you are going to needle them with a Tonification or Sedation technique. Decide if you are want to needle the points on the Left, Right or Bilaterally. Want to add Moxa to the points? You can even share your AcuTx protocols with other users of AcuPoints! Imagine the uses:


You are sitting around the local coffee shop with your laptop. You are thinking about what point protocol to use on your next patient, Bob Smith. Start AcuPoints and begin browsing through your points and adding them to your AcuTx Protocol list. Once satisfied, you name and save your AcuTx. Then when Bob arrives at your office you quickly browse your "Bob Smith - 12/01/10" AcuTx protocol and off you go.
You are browsing through Acupuncture Today and notice a treatment protocol you would like to try for the "Common Cold" - start AcuPoints and you quickly and easily enter the points into AcuTx and off you go. You can even add a description to the protocol "For the Common Cold, found in February 2011 issue of Acupuncture Today"
You are at a seminar listening to a speaker describe great success by using certain points, you take good notes and then later create an AcuTx protocol based on the speakers experience. Ex. "Dr. Yang's Point Protocol for Occipital Headache"
Each treatment protocol even allows you to provide a custom description.

Quick shortcut-keys for entering data and saving you time
Increase / Decrease Font Size for easier reading on high-resolution monitors
Auto-save feature
Sample Images
Click here to see The Included Diagnosis and Treatment Section
(you can change these, delte them, and add your own too)
Heart Syndromes
Heart Yang Deficiency
Heart Yang Exhaustion
Heart Blood Stagnation
Heart Qi Deficiency
Heart Yin Deficiency
Heart Blood Deficiency
Hyperactivity of Heart Fire
Phlegm Misting the Heart (Cold type)
Phlegm Fire Disturbs the Heart
Small Intestine Syndromes
Small Intestine Qi Pain
Small Intestine Excess Heat
Small Intestine Deficiency Cold
Large Intestine Syndromes
Damp Heat in the Large Intestine
Consumption of Fluid in the Large Intestine
Deficiency Cold in the Large Intestine
Lung Syndromes
Invasion of Lung by Exogenous Wind Cold
Invasion of Lung by Exogenous Wind Heat
Invasion of Lung by Wind Dryness
Retention of Phlegm Heat in the Lung
Retention of Phlegm Damp in the Lung
Lung Qi Deficiency
Lung Yin Deficiency
Spleen Syndromes
Spleen Qi Deficiency
Spleen Qi Sinking
Spleen Not Controlling Blood
Spleen Deficiency Edema
Spleen Yang Deficiency
Invasion of Spleen by Cold Damp
Damp Heat in the Spleen and Stomach
Stomach Syndromes
Retention of Food in the Stomach
Stomach Cold
Stomach Fire Rising (Blazing)
Stomach Yin Deficiency
Liver Syndromes
Liver Qi Stagnation
Liver Qi and Blood Stagnation
Phlegm and Qi Stagnant and Blocked
Retention of Cold in the Liver Channel
Liver Fire Rising
Liver Yang Rising
Liver Blood Deficiency
Damp Heat in the Liver and Gallbladder
Liver Invades the Spleen
Liver Invades the Stomach
Liver Yang Rising turns into Wind
Extreme Heat Stirs Liver Wind
Deficiency of Blood Produces Liver Wind
Kidney Syndromes
Kidney Qi Deficiency
Kidney Yang Deficiency
Kidney Yin Deficiency
Kidney Jing Deficiency
Urinary Bladder Syndromes
Damp Heat in the Urinary Bladder

---
AcuPoints for Android Feature Highlights:
Android System Requirements:

Will run on Android versions: 2.0 and above: Eclair, Froyo, Gingerbread, etc.
RAM: ~1.1 MB Free
SD Card: ~1.0 MB Free for database

General:

Chinese characters for Meridian names and Point Names
Multi-Search: This very powerful search feature allows you to search your data using up to two independent keywords at the same time. The results will contain records that match the criteria for all your keyword search terms. Ex. headache AND deafness!

Location and My Notes Database:

3-click export of your Dekstop AcuPoints data for on-the-go reference
Includes the standard Acupuncture Point locations of all 361 main meridian acupuncture points
Don't fear losing your data. The database can be backed up / restored via AcuPoints for Windows

Images:

Reference images for Front, Back, and Side body measurements. Displays a picture with the anatomical Cun measurements for the human body
Reference images for all 12 main meridians
Ability to Zoom In / Out and Pan around images with your finger



It can also scale to larger devices too, here it is running on an Asus Eee Pad Transformer Android Tablet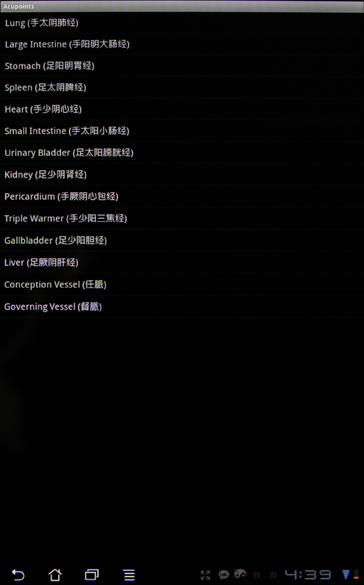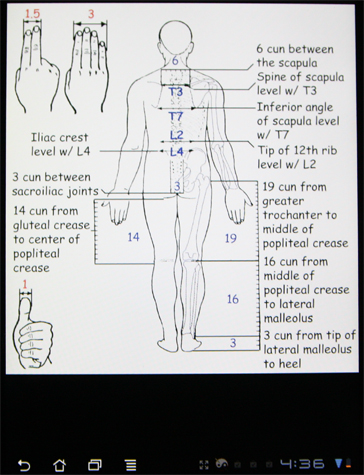 ...and even on a white Pandigital Novel using the Cruz Reader Firmware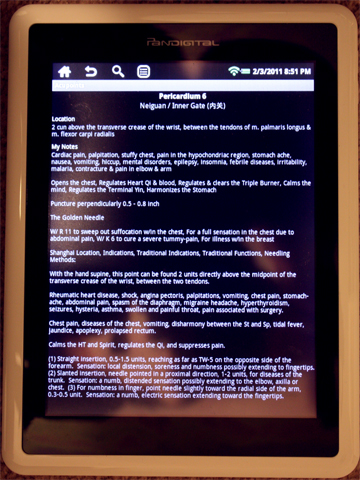 Purchasing and Special Pricing Information